Ancient Treasury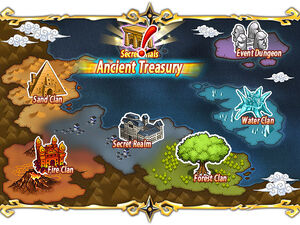 The ocean waters fall during the weekends revealing a passage to a treasury hidden by the ancient lords.
Fight your away against other ninjas who venture here and defeat the ancient guardians to claim these treasures for yourself. These mysterious caves replenish your chakra at remarkable speeds, so feel free to let your ninjutsu skills loose!
How It Works
Passage to the Ancient Treasury is only revealed on the weekends.
Collect massive amounts of gold.
Ninja cards and all other items will not be found in the Ancient Treasury.
There are blue potions to replenish your chakra everywhere in the Ancient Treasury, so let your ninjutsu skills go!
Rewards
This dungeon allows you to acquire massive amounts of gold not available anywhere else.